Is Solar Hot Water Right for You?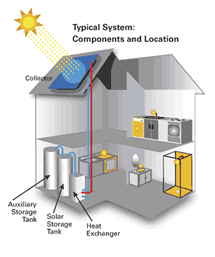 Solar water heating is our specialty & we've helped over 2,000 families in the NY metro area achieve the benefits of solar heating. However, not every home is a good solar candidate. Through our free on site estimate we evaluate the roof orientation, sun exposure and shading. We combine these site factors with your usage patterns to recommend the best system for you. Your satisfaction is our goal and we are proud to maintain an A+ rating from the Better Business Bureau, along with top ratings from Home Advisor and Angie's List. Call us today at 516-586-8829 or fill out the form on the left to schedule your free estimate.
What are the Benefits?
THE GOVERNMENT WILL PAY HALF THE COST: The federal tax credit is currently 30% of the system price and NY state's tax credit is 25%. Hurry up before these tax credits expire!
REDUCE FUEL BILLS: Lower your hot water fuel costs up to 80%! This translates to annual savings of $1,000 for a typical family of four on Long Island.
QUICK PAYBACK: A low upfront cost & generous incentives mean most systems provide a 17% or greater return on investment. Try beating that in the stock market!
NEVER RUN OUT OF HOT WATER AGAIN: Use your hot water lavishly, without the guilt of high fuel bills.
ENVIRONMENTALLY RESPONSIBLE
NO UPFRONT COST: We offer payment plans starting at $80 a month which is less than average monthly fuel savings.
How does it work?
Solar thermal collectors on the roof absorb the sun's heat and transfer it into a solar storage tank adjacent to your existing hot water heater with the help of a small circulating pump.
The solar storage tank uses a coil shaped heat exchanger to transfer the heat into the potable cold water coming into the building. A controller turns the circulating pump on when there is sufficient heat to transfer from the collectors to the storage tank. At night the pump remains off.